Barbie
Fantasy-Komödie mit Margot Robbie, Ryan Gosling, America Ferrera, Kate McKinnon, Michael Cera, Ariana Greenblatt, Issa Rae, Rhea Perlman, Will Ferrell • US/GB 2023, 114' • Kamera: Rodrigo Prieto • Drehbuch: Greta Gerwig & Noah Baumbauch • Regie: Greta Gerwig • Kinostart: 20. Juli 2023
Deutsche Fassung + Englische Originalversion mit deutschen Untertiteln (OmdU)
English language with German subtitles (OmdU)
"Barbie may be the most subversive blockbuster of the 21st century... A big movie can still have big ideas in 2023. Even a Barbie movie. Especially a Barbie movie." David Fear, Rolling Stone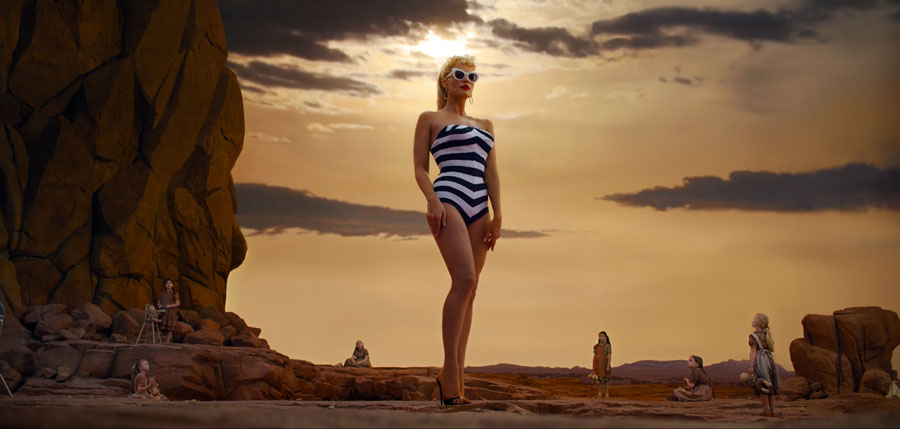 "It's not just a genuinely funny and warm-hearted live-action comedy.. but an art-house passion project so bold, inventive and politically charged that it is sure to be nominated for all sorts of awards... It may be a comedy about a mass-produced plastic doll, but Barbie breaks the mould." Nicholas Barber, BBC
She's everything. He's just Ken.
To live in Barbie Land is to be a perfect being in a perfect place. Unless you have a full-on existential crisis. Or you're a Ken.
Margot Robbie ist Barbie und Ryan Gosling ist Ken. Romantische Fantasy-Komödie von Greta Gerwig (Little Women, Lady Bird) nach einem Drehbuch von Greta Gerwig und Noah Baumbach (White Noise, Marriage Story, Greenberg, Mistress America, Frances Ha).
From Oscar-nominated writer/director Greta Gerwig (Little Women, Lady Bird) comes BARBIE, starring Oscar-nominees Margot Robbie (The Wolf of Wall Street, Suicide Squad, I Tonya) and Ryan Gosling (Drive, La La Land, Blade Runner 2049) as Barbie and Ken, alongside America Ferrera, Kate McKinnon, Michael Cera, Ariana Greenblatt, Issa Rae, Rhea Perlman, and Will Ferrell.
The film also stars Ana Cruz Kayne, Emma Mackey, Hari Nef, Alexandra Shipp, Kingsley Ben-Adir, Simu Liu, Ncuti Gatwa, Scott Evans, Jamie Demetriou, Connor Swindells, Sharon Rooney, Nicola Coughlan, Ritu Arya, Grammy Award-winning singer/songwriter Dua Lipa and Oscar-winner Helen Mirren (Caligula, Excalibur, The Cook the Thief His Wife & Her Lover, The Queen) as the narrator. Written by Greta Gerwig and Noah Baumbach (Greenberg, Frances Ha, Mistress America).